El- og hybridlastbiler
Avancerede Innovation lastbiler viser vej til fremtiden
For at understrege vores førende position inden for drivlinjer har vi introduceret en række avancerede Innovation lastbiler. Disse omfatter LF Electric og CF Electric til halvt eller fuldt læsset distribution i byerne samt CF Hybrid til national distribution med nulemission i byområder, og som samtidig giver en meget længere rækkevidde takket være den nyeste, ultrarene dieselteknologi. Disse innovative løsninger er blevet udviklet for at kunne leve op til behovet for at forbedre den lokale luftkvalitet i storbyerne og reducere CO2-emissionerne.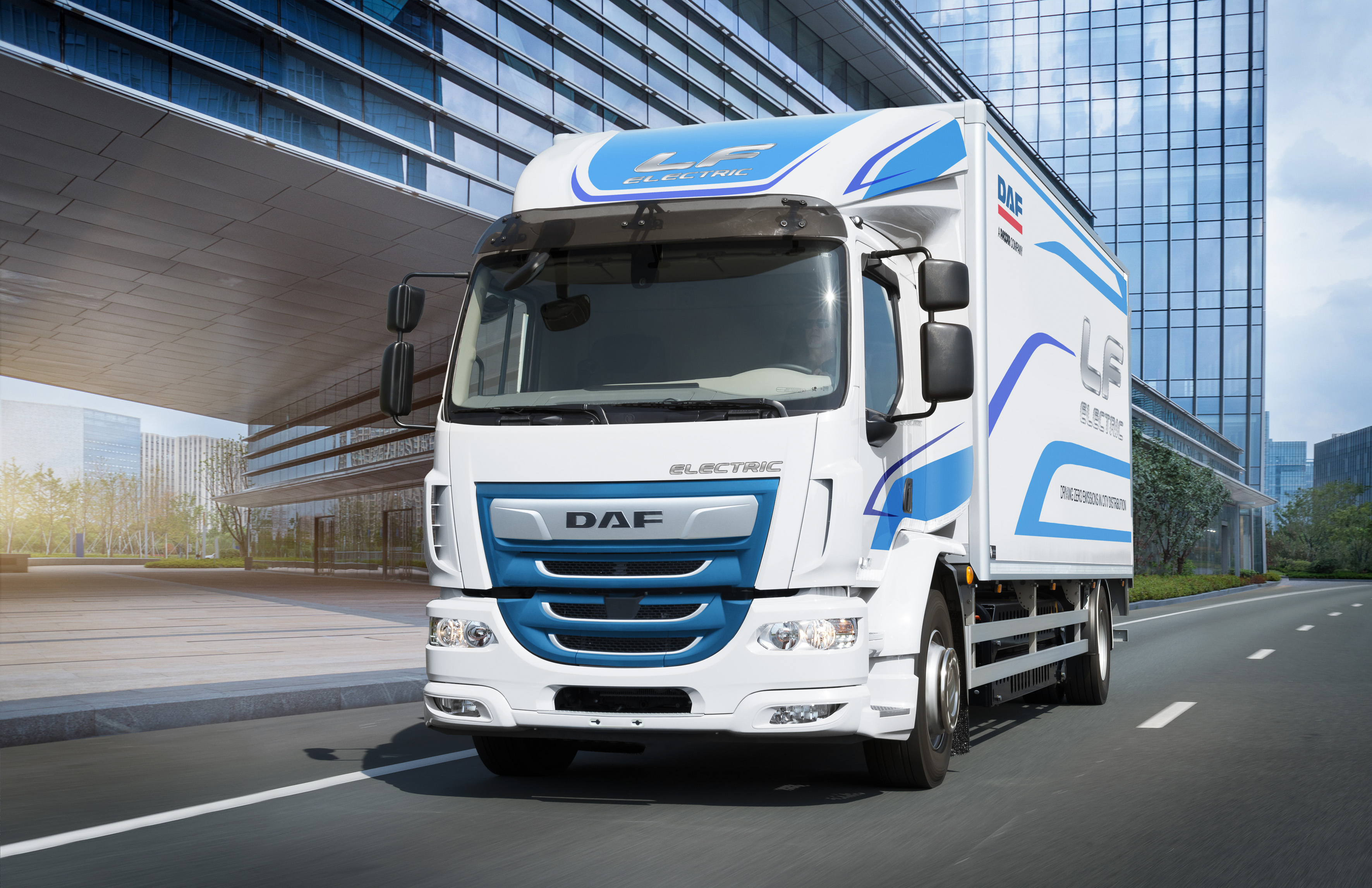 DAF LF Electric Innovation lastbil
DAF LF Electric er en 19 ton 100 % elektrisk lastbil til emissionsfri distributionskørsel i byen. Lastbilen er udstyret med Cummins-teknologi med en 195 kW/266 hk elmotor (spidseffekt: 250 kW/340 hk). Motoren drives af en batteripakke med op til 222 kWh, hvilket giver en rækkevidde på op til 220 kilometer, når lastbilen er fuldt lastet. Da batteripakken er modulopbygget, kan kapaciteten skaleres til den rækkevidde, som kunderne har brug for. Til distributionskørsel i byen er rækkevidden på 220 kilometer, som DAF LF Electric byder på, ideel. 
DAF CF Electric Innovation lastbil
DAF CF Electric er den ideelle nulemissionsløsning til distributionskørsel i byen, hvor der kræves højere nyttelaster og volumener. Dette omfatter anvendelsesområder, hvor enkelt- eller dobbeltakslede sættevogne er standarden, f.eks. ved levering til supermarkeder.
CF Electric er en 4x2 trækker til anvendelser med en vogntogsvægt på op til 37 ton. Lastbilen er baseret på DAF's alsidige CF serie – "International Truck of the Year 2018" – og benytter VDL's avancerede e-Power teknologi til at levere 100% elektrisk drift. Centrum i den intelligente drivlinje er den elektriske motor på 210 kW/286 hk (spidseffekt: 240 kW/326 hk), der får sin energi fra 170 kWh litium-ion-batteripakken.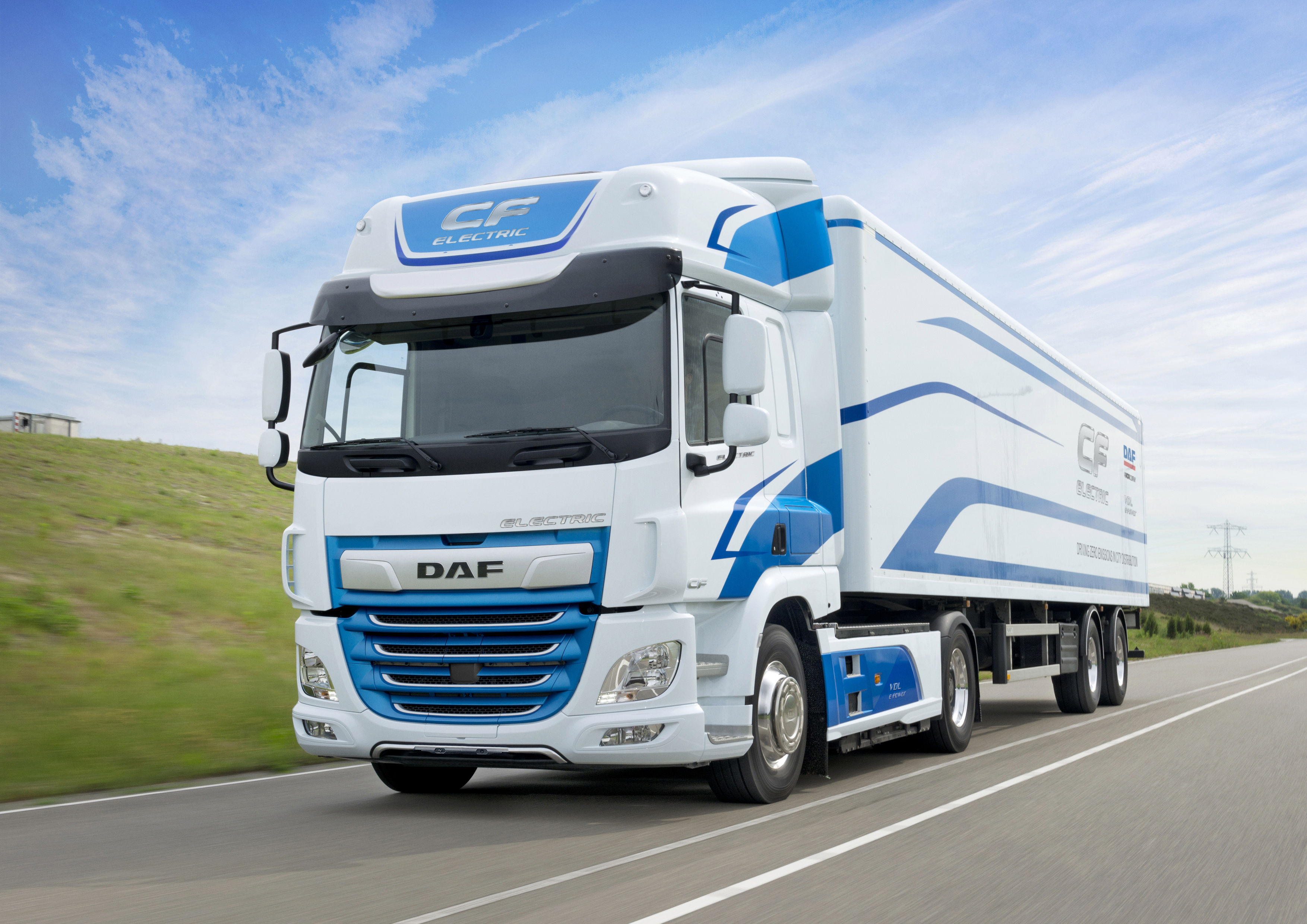 CF Electric har en rækkevidde på ca. 100 kilometer, hvilket er passende til distributionskørsel i byen med store mængder. En hurtigopladning af batterierne tager blot 30 minutter, og en fuld opladning tager kun halvanden time. Læsnings- og aflæsningstiden kan bruges til at oplade batteripakken.

Video DAF CF Electric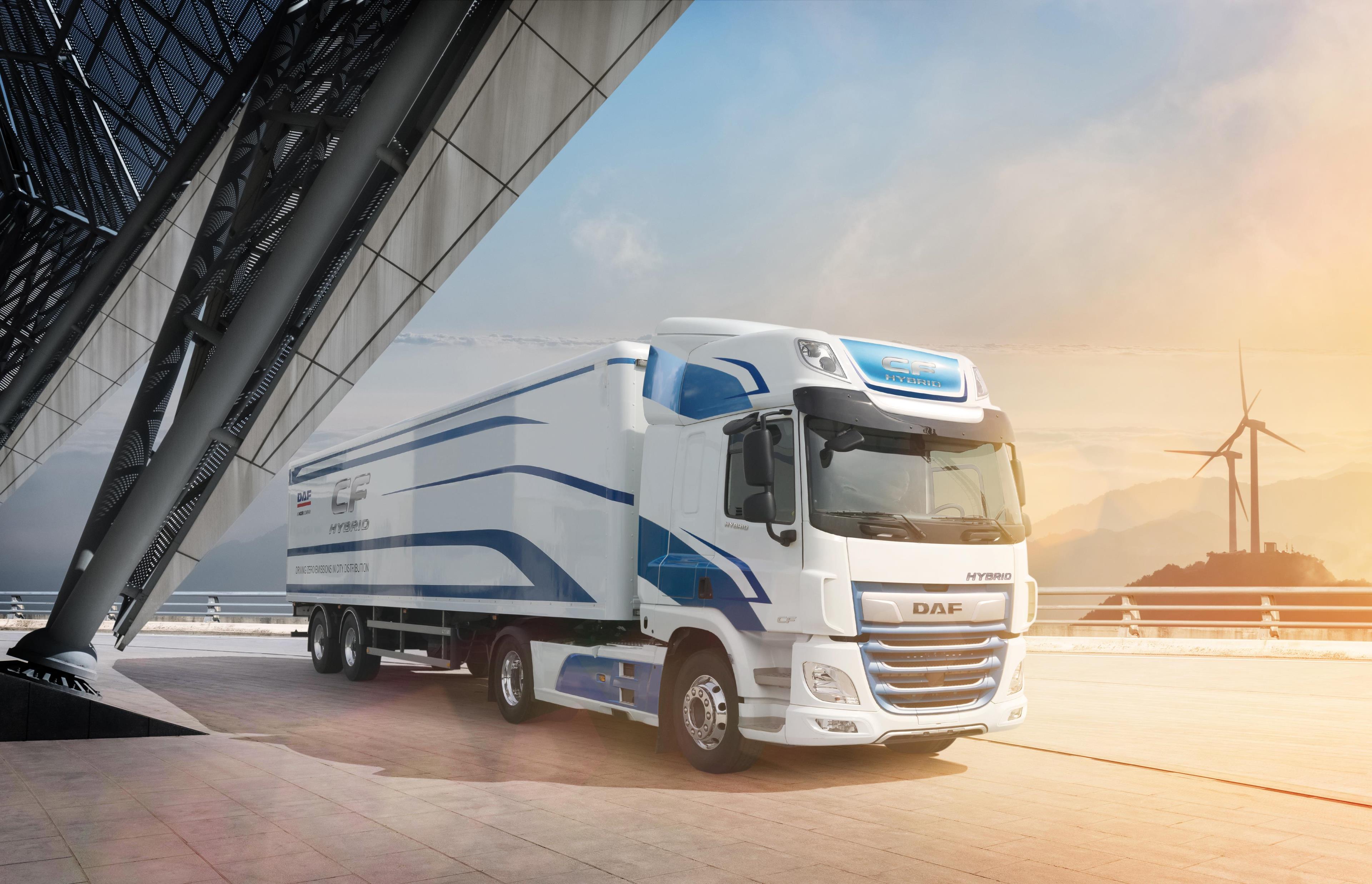 DAF CF Hybrid Innovation lastbil
DAF CF Hybrid er udviklet til at køre elektrisk uden emissioner i byområder, samtidig med at den kan tilbyde en langt større rækkevidde uden for byområderne takket være den nyeste, ultrarene dieselteknologi. Kombinationen af elektrisk kraft og dieselkraft giver den største logistiske effektivitet.

Den avancerede DAF CF Hybrid har en supereffektiv 10,8 liter PACCAR MX-11 motor (330 kW/450 hk), en ZF elmotor (75 kW/100 hk / spidseffekt: 130 kW/175 hk) i kombination med en dedikeret ZF TraXon gearkasse til hybriddrivliner. 
Elmotoren får sin energi fra en 85 kWh batteripakke, der muliggør en 100 % elektrisk, emissionsfri rækkevidde på 30 til 50 kilometer, afhængigt af den totale vogntogsvægt. Batterierne kan oplades af dieselmotoren under kørsel på landevejen og ved hjælp af en DC-oplader på en opladestation. Køretøjet er udstyret med en hurtigopladningsfunktion, der bruger 30 minutter til en fuld opladning og kun 20 minutter til en 80 % opladning.

Uden for byområder drives CF Hybrid af den rene og effektive PACCAR MX-11 dieselmotor, der tilfører hybridteknologien yderligere brændstofbesparelser takket være smart energistyring. Regenerativ energi genereres under nedbremsning og ved hjælp af hastighedsrelaterede betjeningsenheder som Styring af hastighed ned ad bakke og Intelligent fartpilot. Denne energi kan bruges af elmotoren til sammen med dieselmotoren at reducere brændstofforbruget yderligere.
Hybridsystemets batteripakke driver den elektriske drivlinje, den elektriske luftkompressor og det valgfri intelligente e-kraftudtag. e-kraftudtaget kan bruges til at drive køleudstyr på sættevogne til temperaturkontrolleret transport, hvilket yderligere forbedrer den støjsvage drift.
Felttest
De første CF Electric lastbiler lanceres til felttest hos førende kunder i 2018, og lignende felttests er planlagt til at begynde i 2019 med LF Electric og CF Hybrid. DAF er klar til at introducere disse avancerede lastbiler, når markedet er klar til det.