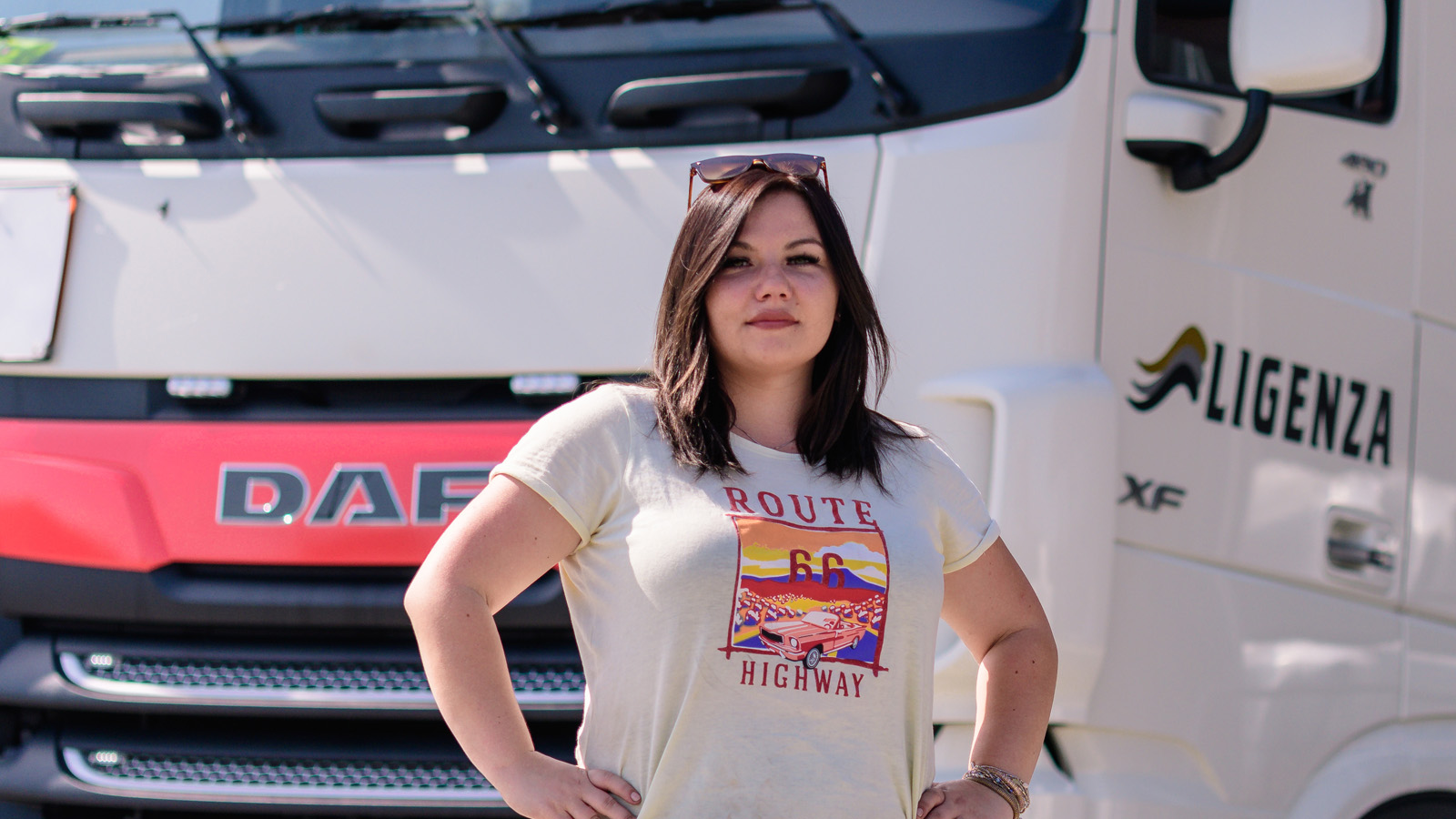 "Det er sandt, at kvinder får tingene fra hånden hurtigere."
Ada Wiacek
Kvindelige lastbilchauffører vinder frem
En stor lastbil med en lille kvindes unge ansigt bag rattet. En lastbil fra DAF med et iøjnefaldende Mickey Mouse-mærkat. For Ada Wiacek er det en hobby, et arbejde og på det seneste også en måde at drive forretning på.
Det bliver mere og mere almindeligt med kvindelige lastbilchauffører. Det anslås, at der i Polen er omkring 3.200 "kørende kvinder". Hvad vigtigere er: Arbejdsgiverne siger, at kvinderne klarer sig lige så godt som mændene: De er hårdtarbejdende, grundige, præcise og har bedre sociale kompetencer, hvilket er nyttigt, hvis der er brug for lidt diplomati for at løse et problem. "Det er sandt, at kvinder får tingene fra hånden hurtigere. Når en kvinde træder ind på et kontor, er det pludselig ikke noget stort problem at finde eller aflæsse en rampe," griner Ada. Hun både kører for og er medejer af Ligenza Transport.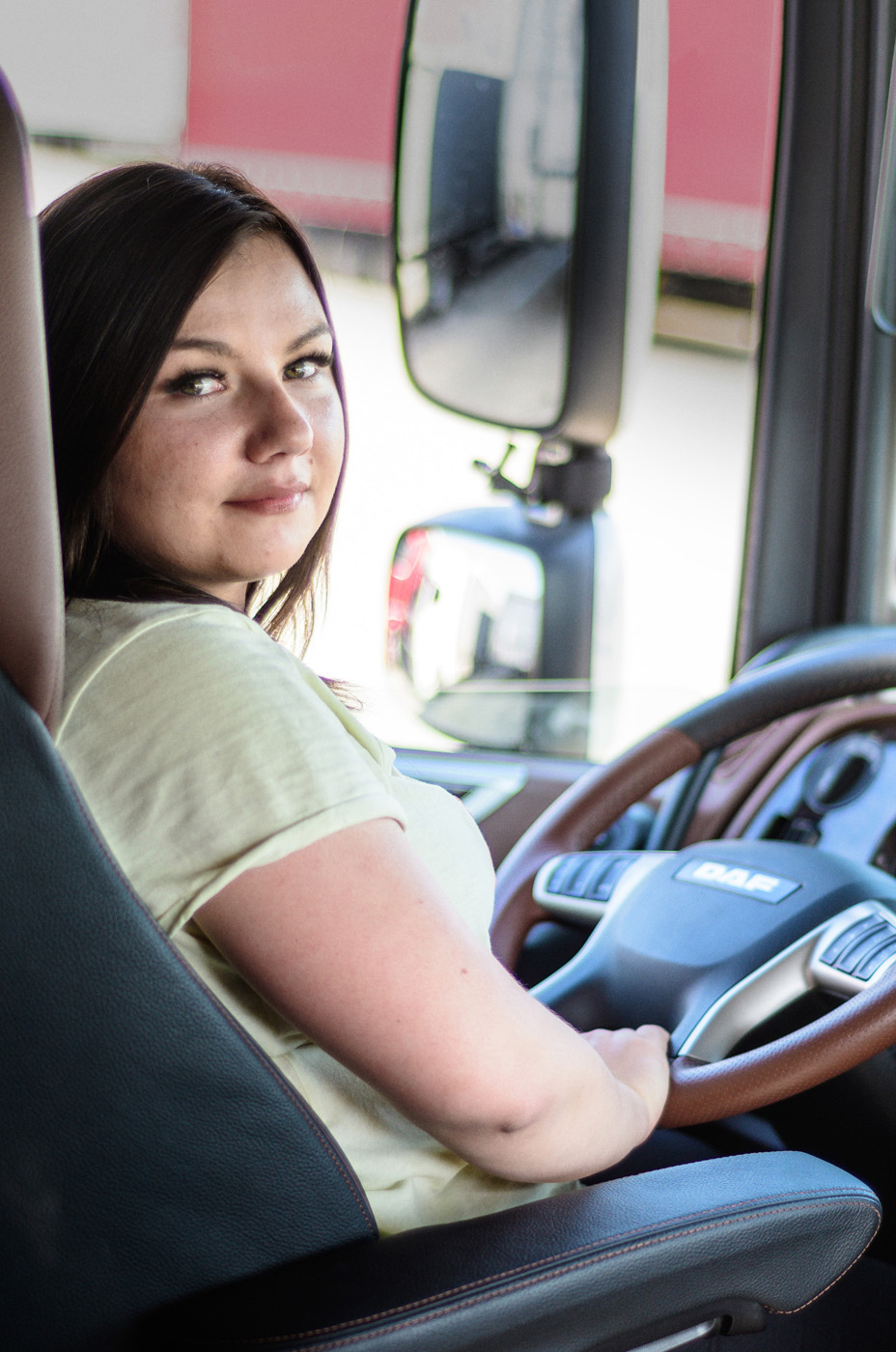 "Kan du klare det?" "Selvfølgelig!"
Ada arbejder som medchauffør sammen med sin forlovede, Pawel Ligenza. Sammen kører de tusindvis af kilometer i en rød og hvid DAF XF Pure Excellence med en motoreffekt på 480 hk, og man kan kende dem på Mickey Mouse-mærkatet på lang afstand. De har også en lille virksomhed med speciale i reservedele til biler, der primært opererer på det spanske marked. De har vundet kontrakter for Wichot Transport, som er deres tidligere arbejdsgiver og ikke havde noget imod, at de startede en ny virksomhed, men tværtimod tilbød at hjælpe dem. "Både Pawel og jeg startede med at køre professionelt, da vi arbejdede for den virksomhed. Pawel har syv års erfaring som chauffør, og jeg har tre. Hvordan det begyndte? Det blev sværere og sværere for mig at leve uden Pawel, når han var afsted, og en dag sagde jeg til ham: "Jeg tager med dig!" På det tidspunkt var der en ledig stilling i virksomheden. Pawel fortalte sin chef, at han havde en ideel kandidat til jobbet som sin medchauffør. I starten kunne virksomhedens ejer ikke tro sine egne ører, men han inviterede mig til et møde, som varede omkring tre minutter. Han stillede ét spørgsmål: Kan du klare det? Og jeg svarede: "Selvfølgelig kan jeg det!" Så her er jeg!" griner Ada, virksomhedens første kvindelige ansatte. 
En stigning i antallet af "kørende kvinder"
Dengang var det en sjældenhed, men situationen har ændret sig i årenes løb, både på de polske og de europæiske veje. "Det kommer måske som en overraskelse for nogen, men jeg kan ærlig talt ikke se nogen forskel på mænd og kvinder, når det drejer sig om deres kørestil eller branchens holdning til dem. Nu om dage er der ikke længere en skarp skillelinje mellem jobs til mænd og kvinder. Mange mænd er glimrende kokke, frisører eller medarbejdere i skønhedssaloner. Jeg ser kvindelige lastbilchauffører flere gange om dagen, specielt i Frankrig eller Spanien – og ofte kører de dobbeltskift. Jeg har de samme arbejdsopgaver som Pawel: Jeg kører, jeg hjælper med aflæsning, jeg skifter dæk, jeg trækker presenningen ned. Jeg har lidt problemer med de øverste bomme – ikke fordi jeg er kvinde, men fordi jeg er lille (154 cm). For nylig satte jeg endda rekord ved at skifte dæk på 40 minutter!" siger Ada.
Fremtidens transport med DAF XF Pure Excellence
Det kan godt være, at Ligenza Transport kun har eksisteret i et år, men virksomheden har allerede planer om nye investeringer. Virksomheden ejer allerede to DAF XF lastbiler med en motoreffekt på 480 hk og et førerhus i høj kvalitet, og i år planlægger den at købe den nyeste XF SSC Pure Excellence. Det unge par, der ejer virksomheden i fællesskab, har allerede to chauffører og yderligere et par medchauffører – og de ansætter stadig folk. Alle deres DAF lastbiler er forsynet med Disney-mærkater. Så hvis du ser en DAF lastbil på polske plader med Mickey Mouse på, så vink du bare. Det er sandsynligvis Ada, der sidder bag rattet.