DAF's lastbilførerhus – dengang og nu
Bilindustrien, som vi arbejder i, står aldrig stille. Vi arbejder konstant på innovationer inden for bæredygtighed, sikkerhed og effektivitet. I årtier har vi været fokuseret på at udvikle de allerbedste førerhuse, vi overhovedet kan. Find ud af, hvordan DAF førerhuse har udviklet sig i årenes løb.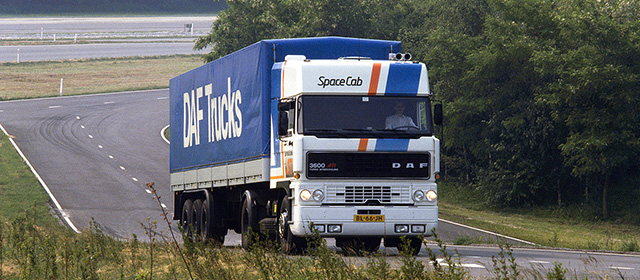 Produktionen begyndte i 1966, hvor DAF åbnede sin første førerhusfabrik. Tre år senere introducerede vi det vipbare førerhus. Denne teknologi, der var helt ny på det tidspunkt, bruges stadig i dag.
Fokus på chaufførkomfort
Space Cab, der blev introduceret i 1985, var en banebrydende udvikling. DAF førerhuset var allerede særligt populært blandt lastbilchauffører på det pågældende tidspunkt, og i 1987 indførte vi en ny flagskibsmodel: 95-serien. Lastbilen blev som standard leveret med Space Cab, som var blevet meget efterspurgt. Et år senere blev DAF 95 kåret som "Truck of the Year 1988". I 1994 gik vi et skridt videre, da Super Space Cab blev født, hvilket skabte et godt grundlag for førerhuset, som vi kender det i dag.
Strengere krav, bedre lastbiler
I de efterfølgende år arbejdede vi konstant på at perfektionere de finere detaljer. Førerhuset er blevet stadig mere bæredygtigt, sikkert og stille, behageligt og visuelt tiltalende, og der er nu mere end tusind og én måde at tilpasse kabinen til dine behov på. Lastbilerne bliver stadigt mere teknologi-fokuseret og moderne takket være indførelsen af nye teknologier. I gamle dage arbejdede mekanikere udelukkende på hardwaren, men i dag er tingene ikke længere så enkle. Betjeningen af en lastbil er nu i vid udstrækning afhængig af computersystemer, takket være indførelsen af kompleks og sofistikeret teknologi. Denne fremgangsmåde forbedrer kvaliteten, men kræver også en mere præcis tilgang til reparation og vedligeholdelse.
Nutidens lastbiler handler om eksklusivitet
Det har længe været muligt at vælge forskellige muligheder for at tilpasse en lastbil – lige fra grundlæggende elementer til luksusfunktioner. Der hvor tingene har ændret sig, er, at eksklusivitet nu fås som standard med DAF. Selv om du vælger en standardvare, kan du være sikker på en vis grad af luksus og kvalitet. Derfor tilbyder vi nu kun "grundlæggende" stole til passagersædet, og selv basismodellen af chaufførsædet er luftaffjedret og yderst komfortabel. Det siger sig selv, at vi også kan tilbyde luksusmuligheder overalt, men selv hvis du vælger standardfunktioner, er kvaliteten sikret.
Kunne du tænke dig at få mere at vide?
Hvis du kunne tænke dig at få mere at vide om historien om DAF lastbiler, kan du besøge afsnittet "Historie" på vores websted. Tøv endelig ikke med at kontakte din DAF forhandler, hvis du har særlige spørgsmål eller krav ifm. DAF førerhuse. Din forhandler vil med glæde hjælpe.
Find din nærmeste DAF forhandler