Batterier holder din lastbil kørende
Men batterier skal også holdes kørende. Du vil helst have en lastbil, der starter uden problemer, og som giver dig masser af komfort – især om vinteren.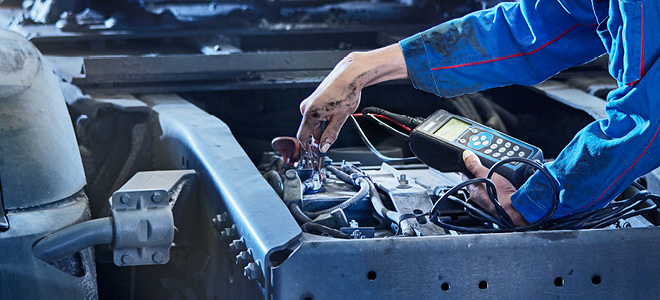 Vinteren er ikke alle batteriers yndlingsårstid. Kulden påvirker deres kapacitet, og derfor skal de have lidt ekstra opmærksomhed. Her er et par enkle tips: 
Det handler først og fremmest om at sørge for, at de har det dejligt varmt og er skærmet mod den kolde vind. Så beskyt dem med en ekstra afskærmning. Det betyder mindre arbejde for batterierne, og det er altid en god ting. 
Det er også vigtigt, at batteriforbindelserne fungerer korrekt. Derfor skal de kontrolleres regelmæssigt og udskiftes, når de trænger til det. Husk også at udskifte dem, hvis du er i tvivl om, om de fungerer korrekt.
Sørg for, at der ikke trækkes strøm unødigt fra batterierne – også selv om det kun er en lille smule. Det kan godt være, at nogle enheder kun forbruger en lille smule strøm, når de er i dvale, men det hele løber op, og før du ved af det, er dit batteri halvt tomt.
Fuldt opladede batterier er den bedste vej frem, i bogstavelig forstand. Undgå ruter, hvor du skal standse og sætte i gang for ofte. Afprøv og udskift batterierne i god tid. Eller lad din DAF forhandler hjælpe dig. 
Hold din lastbil kørende – det er trods alt det, den er bygget til. Men hold også dine batterier fuldt opladede
Pas godt på dine batterier: De fortjener det!
Find din nærmeste DAF forhandler