DAF Trucks vinder den prestigefyldte Computable Award 2018
DAF Trucks har vundet den prestigefyldte Computable Award 2018 på baggrund af selskabets 3D DAF Truck Configurator. Dette nye topmoderne webværktøj giver DAF kunder muligheden for online at specificere deres ideelle køretøj.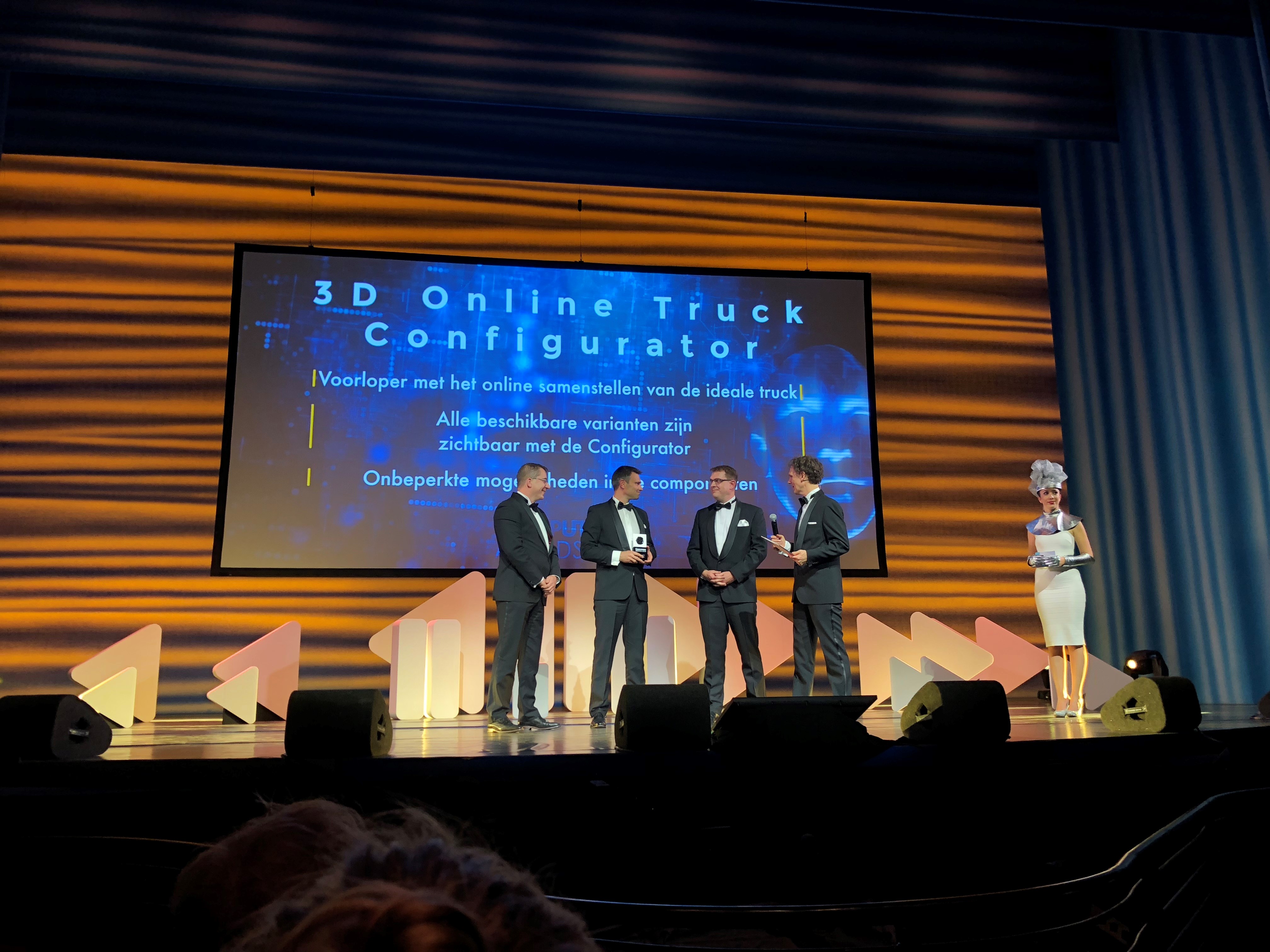 Computable Awards er de vigtigste IT-relaterede priser i Holland og tildeles af en jury af it-eksperter samt læsere af "Computable magazine". DAF blev tildelt prisen i kategorien "Digital Innovation of the Year".

3D DAF Truck Configurator gør det muligt online at sammensætte den mest optimale lastbil til et hvilket som helst transportbehov. To, tre eller fire aksler, enkelt- eller dobbeltmonteret, styret for- eller bagaksel, Day, Sleeper eller det ekstra rummelige Space Cab eller Super Space Cab - alle tænkelige lastbiler og chassisvarianter kan konfigureres online.

"Unikt for den automotive branche"
"Med 3D Online Truck Configurator går DAF foran med online lastbilkonfiguration", siger Sander Hulsman, chefredaktør på Computable magazine. "Alle tilgængelige muligheder kan vælges, herunder de næsten ubegrænsede muligheder for placering af komponenter, såsom brændstoftanke og batteriholdere. Det er unikt, at information hentes direkte fra de originale CAD kildefiler hos DAF, i stedet for at bruge standardbilleder og filer som mange andre konfiguratorer, hvilket betyder 100% nøjagtighed. Desuden giver 3D Truck Configurator muligheden for at checke den specificerede lastbil helt ned i de mindste detaljer – helt unikt for den automotive branche. Dette gør, som ekspertjuryen af Computable Awards og læserne af Computable udtrykker det, DAF til den retmæssige vinder i kategorien 'Digital Innovation of the Year'. "

DAF Transport Efficiency
Richard Zink, direktør for Marketing & Sales og medlem af direktionen i DAF Trucks, er umådelig glad for prisen. "Vi bestræber os altid på at betjene markedet endnu bedre," sagde han. "Med DAF 3D Truck Configurator kan vores kunder konfigurere den mest optimale lastbil eventuelt sammen med deres opbygger og forhandler. Denne innovative online-proces passer perfekt ind i vores DAF Transport Efficiency filosofi. Det udmærker sig ved brugervenlighed og fremskynder leveringen af lastbilen, fordi opbyggeren kan være involveret i et meget tidligt stadie, så han allerede kan begynde at forberede opbygningen, mens lastbilen bliver produceret. "

Der var 60 indstillede i kategorien 'Digital Innovation of the Year' til Computable Awards 2018, med ti nominerede til sidst.

3D DAF Truck Configurator findes på de europæiske DAF hjemmesider.