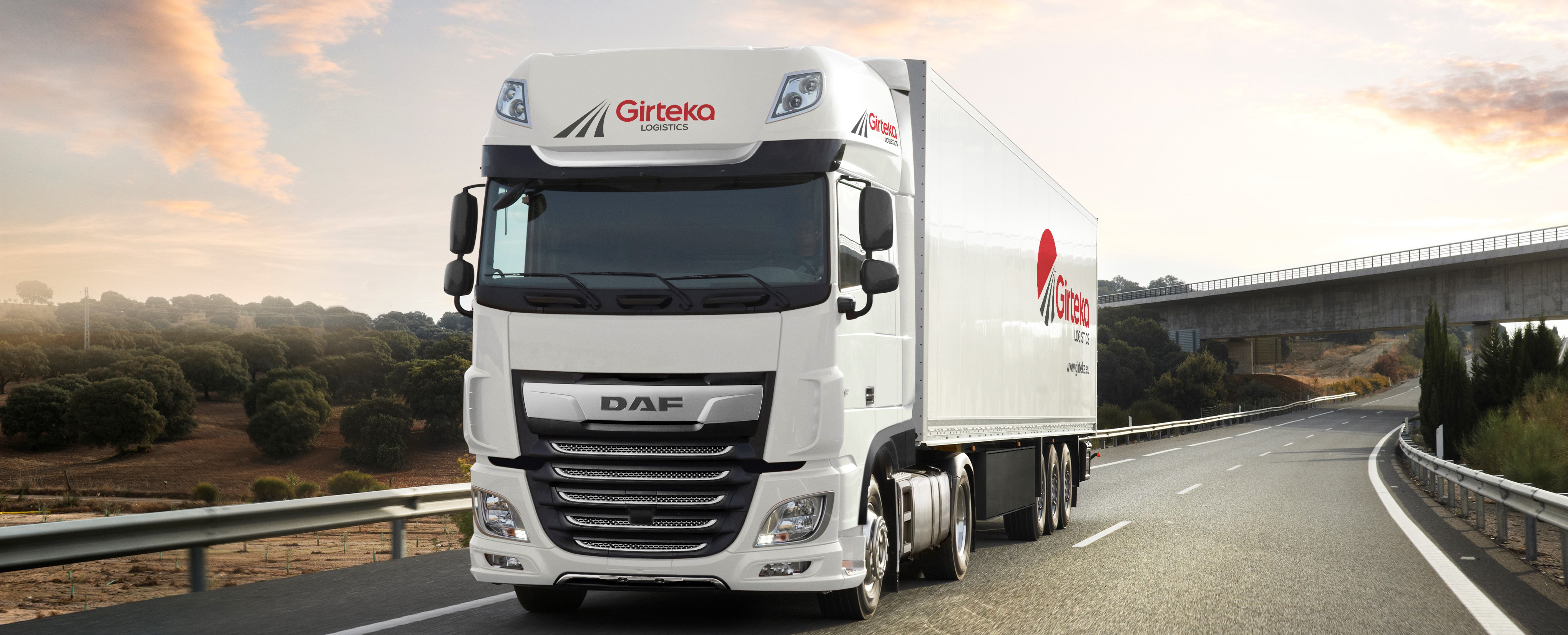 500 DAF XF lastbiler til Girteka Logistics
Europas førende transportfirma, Girteka Logistics, udvider sin flåde med 500 DAF XF lastbiler. "DAF overgik vores forventninger ved at introducere den nye XF lastbil, der med en forøgelse på mindst 7% sætter ny standard inden for brændstofeffektivitet." Europas førende transportfirma, Girteka Logistics, har bestilt 500 DAF XF lastbiler til sine internationale FTL-operationer. "Baseret på den fremragende pålidelighed, sikkerhed og brændstofeffektivitet besluttede vi at tilføje 500 XF lastbiler til vores voksende flåde. De fleste af dem vil blive taget i drift mellem juli og oktober 2018," udtalte Mindaugas Raila, formand for Girteka Logistics. "Disse nye DAF lastbiler indgår i vores planer om yderligere at udvide vores virksomhedsaktiviteter i hele Europa."
Siden grundlæggelsen i midten af 1990'erne har Girteka Logistics – med hovedsæde i Vilnius, Litauen - udviklet sig til Europas førende transportfirma med speciale i transporter inden for International Full Truck Load (FTL). Girteka Logistics' moderne flåde består af flere end 4.400 lastbiler og 4.700 anhængere. Girteka Logistics har flere end 9.000 dygtige lastbilchauffører.
Beslutning baseret på markedsresearch
"Vores beslutning om at vælge DAF's førsteklasses XF lastbiler er et resultat af omfattende markedsresearch," tilføjede Mindaugas Raila. "Vi havde brug for et fantastisk produkt, der tilbød de lavest mulige driftsomkostninger, heriblandt et lavt brændstofforbrug, til at underbygge vores position som et førsteklasses transportfirma. Og så går Girteka Logistics ind for miljøbeskyttelse. DAF overgik vores forventninger, eftersom firmaet tilbyder lavere CO2-udledninger takket være introduktionen af den nye XF lastbil, der sætter ny standard inden for brændstofeffektivitet. Samtidig ønsker vi at tilbyde vores chauffører den bedst tænkelige komfort, og derfor har vi valgt versionerne med de luksuriøse førerhuse XF Space Cab og Super Space Cab."
Højeste brændstofeffektivitet
Girteka Logistics' 500 DAF XF lastbiler vil blive udstyret med PACCAR MX-13 motoren på 12,9 liter (365 kW/480 hk, 2.500 Nm ved kun 900 o/min.) og den nye automatiserede TraXon-gearkasse. Lastbilerne er udstyret med den nyeste teknologi, for eksempel intelligent fartpilot, intelligent gearskiftefunktion, system til advarsel ved skift af vognbane, AEBS-system og system til advarsel om kollision forfra. DAF's chaufførassistent hjælper chaufføren med at opnå den højeste brændstofeffektivitet, og det samme gør DAF's avancerede Eco Roll-funktion. For at opnå maksimal oppetid har Girteka Logistics valgt serviceintervaller på op til ikke mindre end 200.000 kilometer.
Stor anerkendelse af DAF's lastbiler
"Den kendsgerning, at førende transportfirmaer som Girteka Logistics vælger den nye DAF XF – kåret som "International Truck of the Year" i 2018 – er en stor anerkendelse af lastbilens kvalitet, pålidelighed, effektivitet og chaufførkomfort," tilføjede Preston Feight, der er direktør for DAF Trucks. "Desuden er det en stor anerkendelse af vores fantastiske netværk af forhandlere i hele Europa."
Pressekontakter
Er du journalist? Kontakt os for at få flere oplysninger om virksomheden, vores produkter og tjenester samt andre emner.
Rutger Kerstiens
Corporate Communications Department
Telefon: +31 (0)40 214 4191
E-mail: rutger.kerstiens@daftrucks.com