DAF European Technician of the Year 2018
Hvem er den bedste DAF tekniker i Europa? DAF Trucks afholder fjerde konkurrence for årets DAF tekniker for at finde svaret. Jagten på at finde den bedste DAF tekniker understreger, hvor vigtig en grundig uddannelse af professionelle værkstedsteknikere er for DAF.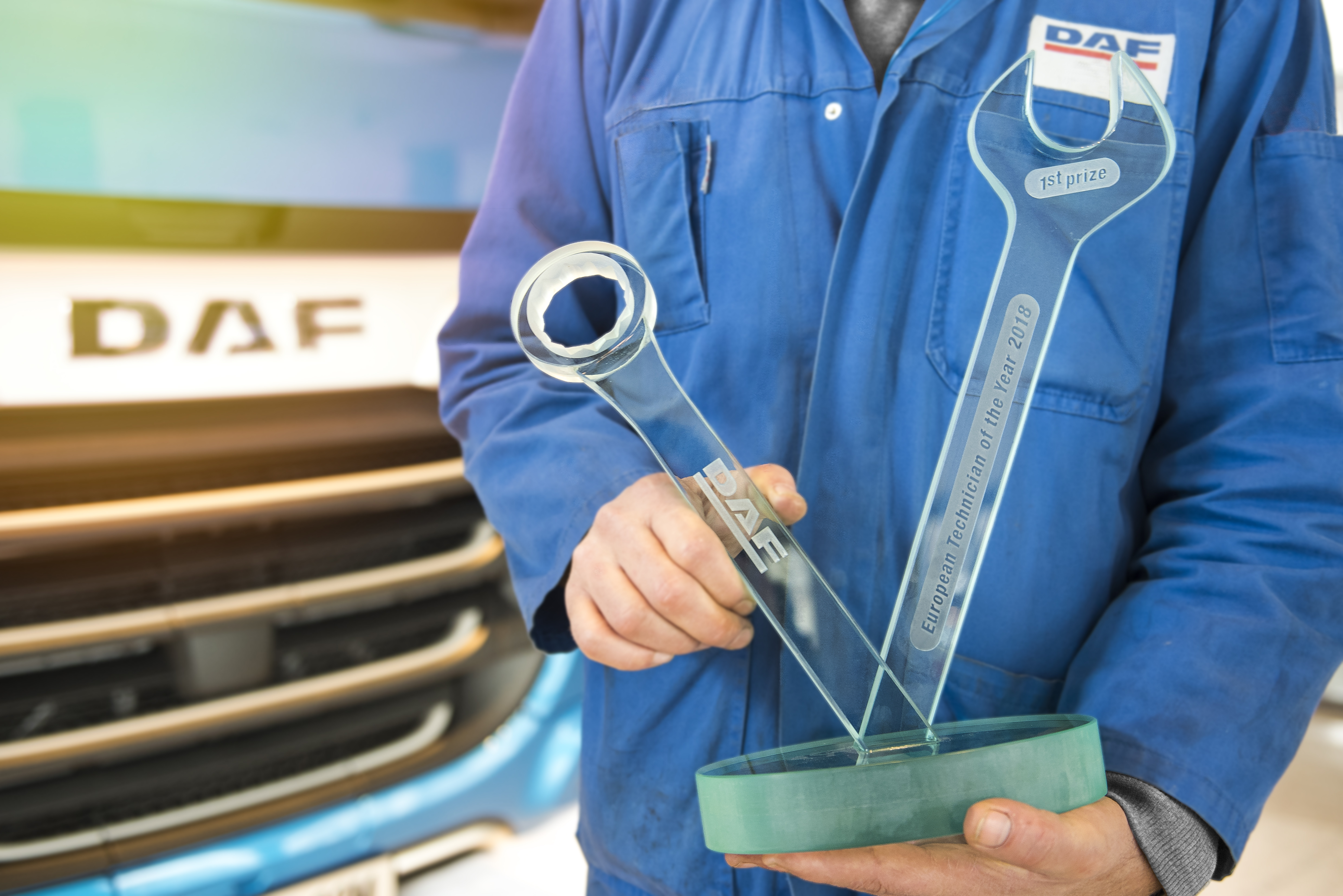 Sidste år lancerede DAF en helt ny generation af supermoderne lastbiler. Efter relanceringen er de nye LF, CF og XF lastbiler stadig førende inden for områder som f.eks. miljøvenlighed, sikkerhed, chaufførkomfort og naturligvis med hensyn til de samlede ejerskabsomkostninger.

DAF værkstedsteknikere kender de nyeste DAF lastbiler ud og ind. De får en grundig uddannelse for at sikre, at de er i stand til at hjælpe kunderne så hurtigt og omkostningseffektivt som muligt med de nyeste informationer og systemer. Derudover fungerer DAF teknikerne reelt som et "visitkort" i en DAF forhandlers værksted, og de spiller således en vigtig rolle, når det drejer sig om kundetilfredshed. Når alt kommer til alt, er målet, at de leverer fremragende service og kvalitet – helt ned til mindste detalje.
Konkurrencen
Konkurrencen om at finde årets tekniker består af to dele. Sidste år konkurrerede teknikerne fra de 18 deltagende lande om deres respektive nationale titel. Nu konkurrerer vinderne af de nationale titler mod hinanden i den europæiske finale.

I den europæiske finale den 11. og 12. april i DAF Trucks' hovedkvarter i Eindhoven, Holland, vil finalisterne demonstrere deres faglige ekspertise i en række udfordrende teoretiske og praktiske øvelser. Deltagerne skal bl.a. finde løsninger på fejl relateret til motoren og køretøjets systemer inden for et bestemt tidsrum.

Alle kandidater har gennemført det højeste uddannelsesniveau: cheftekniker.


De nominerede i 2018:
Marin Pavicic, Østrig

Wim Vanderheyden, Belgien

Petr Valenta, Tjekkiet

Mike Christensen, Danmark

Bruno Cormier, Frankrig

Mathias Lehmann, Tyskland

János Szekeres, Ungarn

Fabio Zogno, Italien

Cor Kramer, Holland

Bjørn Måge, Norge

Łukasz Węgrzynek, Polen

Rui Manuel Tavares da Silva, Portugal

Martin Sako, Slovakiet

Iván Manuel Grela Muiño, Spanien

Hugo Bergman, Sverige

Stephan Rettenmund, Schweiz

Adam Baker, Storbritannien

Dragos (Vasile) Pop, Rumænien
> Go to the European Technician of the Year page
Pressekontakter
Er du journalist? Kontakt os for at få flere oplysninger om virksomheden, vores produkter og tjenester samt andre emner.
Rutger Kerstiens
Corporate Communications Department
Telefon: +31 (0)40 214 4191
E-mail: rutger.kerstiens@daftrucks.com