Fleksibel
Din DAF forhandler
Når du opsøger en af vores forhandlere for at få udført en reparation, udfører de arbejdet for dig så hurtigt som muligt – uanset om den er stor eller lille.
Dit problem er vores udfordring
Vi er fuldt ud klar over, at du er ude af stand til at generere indtjening eller overholde dine tidsfrister, når din lastbil ikke er driftsklar. Derfor gør vi alt, hvad vi kan, for at få din lastbil tilbage på vejen så hurtigt som muligt. Når du afleverer din lastbil hos en DAF forhandler, kan du være sikker på, at de reparerer den så hurtigt som muligt uden at gå på kompromis med kvaliteten.
Hurtig, fleksibel og effektiv
DAF lastbiler er konstrueret med henblik på at muliggøre hurtigt og enkelt reparationsarbejde i de fleste tilfælde. Du skal ikke vente længe på at få din lastbil repareret, hvis den er blevet beskadiget. Du kan også opsøge din DAF forhandler for at få softwareopdateringer og hjælp til øvrige tekniske spørgsmål. Hvis det ikke er muligt at afhjælpe fejlen med det samme, finder vi et passende alternativ. Vi begynder først at arbejde på din lastbil, når du har fået alle oplysninger om situationen og om alle udgifter. På den måde kan vi undgå ubehagelige overraskelser.
De bedste af de bedste: førsteklasses teknikere
Vores faguddannede, førsteklasses teknikere kan klare stort set alle problemer, de møder. Vi kalder dem ikke førsteklasses teknikere for ingenting, for de har den højeste ekspertise og kompetence, når det drejer sig om DAF lastbiler. Hvert år testes deres knowhow i konkurrencen "DAF European Technician of the Year".
Takket være deres ekspertise kan de arbejde hurtigt og effektivt, hvilket sparer mange arbejdstimer. Derudover gør standardmarkedspriser, en lav pris pr. kilometer og et fremragende forhold mellem pris og kvalitet reparationer hos en DAF forhandler til et yderst attraktivt valg. Hos DAF gør vi en ekstra indsats. Vi gør dig for eksempel opmærksom på, hvornår det er tid til det årlige syn, så vi kan booke en aftale i god tid.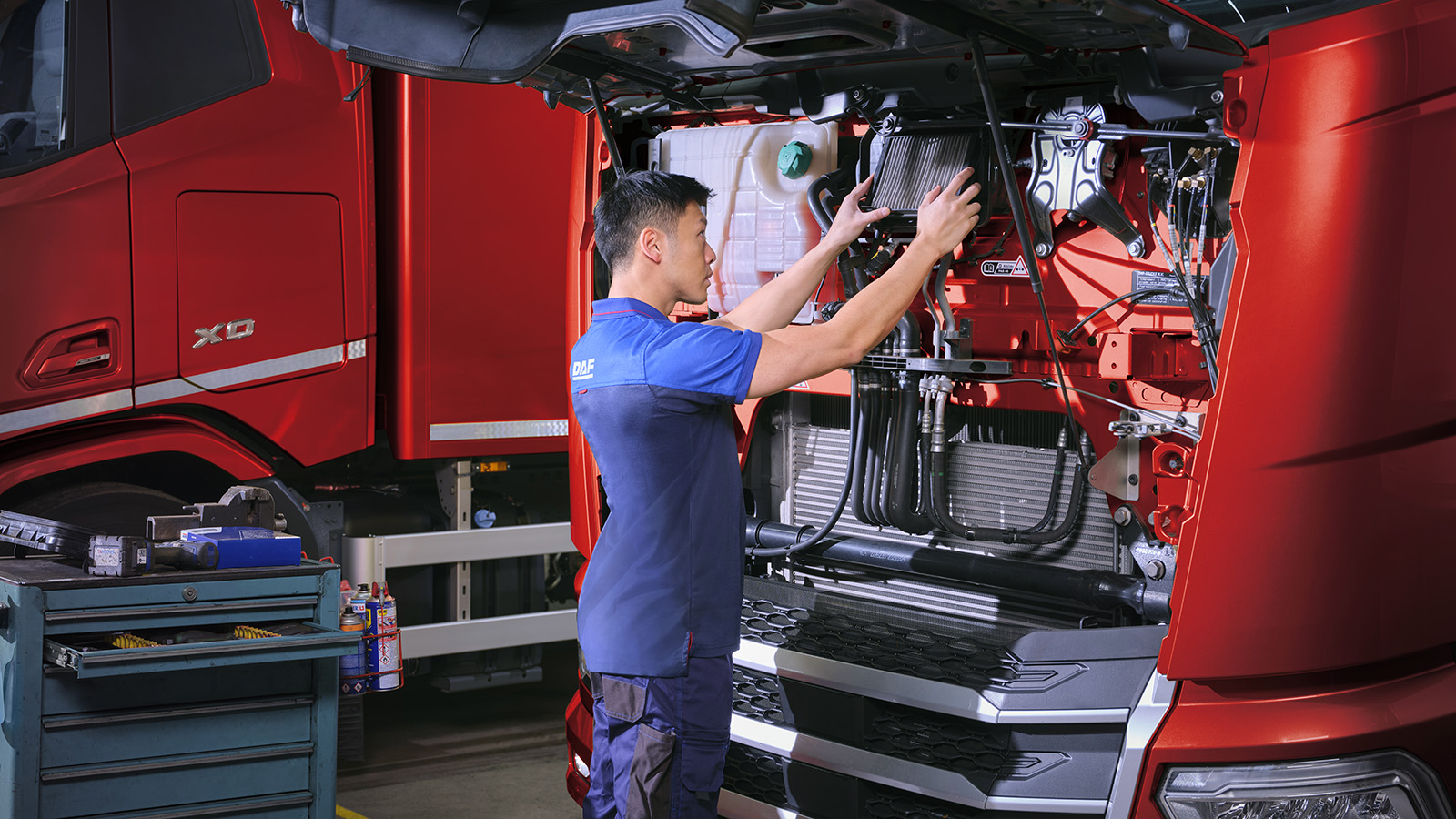 International service 
Vores service rækker langt ud over vores værksteder. Hvis din lastbil bryder sammen i udlandet, gør vi alt, hvad vi kan, for at få den tilbage på vejen så hurtigt som muligt. Et hurtigt opkald til vores "International Truck Service" (ITS) er nok. De er klar til at besvare dit opkald døgnet rundt og tager sig af dit problem, når du har forklaret situationen for dem. Din kontaktperson holder dig informeret om status på sagen.
Hvornår ankommer hjælpen?
Hvad skal der gøres?
Vores kunder sætter pris på kvaliteten af og gennemsigtigheden i vores kundekontakt. Hvis du gerne vil vide mere om vores International Truck Service, eller hvis du har spørgsmål, står vi til rådighed døgnet rundt.
> Klik her for mere information om ITS, eller ring til os på 0031-402143000. Vores medarbejdere vil med glæde hjælpe dig!
5 grunde til at vælge et DAF værksted
 Din DAF forhandler har færdighederne og erfaringen til at hjælpe dig med alt reparations- og vedligeholdelsesarbejde. Højt kvalificerede serviceteknikere holder din lastbil topeffektiv ved hjælp af avanceret diagnostisk udstyr.
Få mere at vide om DAF forhandleren
Må vi byde dig velkommen? Find din DAF forhandler